The World Market for Primary Elements
Released in September 2007

About Wedge Meters
Among other manufacturers, AMETEK-Solatron ISA and ABB both offer wedge meters.
Wedge meters consist of a flow body and a smooth wedge-shaped restriction in the tube which creates a pressure drop as the flow passes through it. Wedge meters measure differential pressure in liquids, gases, or steam.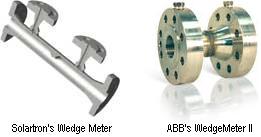 They have no moving parts, making them virtually maintenance-free. They generally give highly accurate readings and can handle low flows, highly viscous flows, dirty or corrosive flows, and hot or cold flows, with only a small reduction in the overall pressure of the flow.
Both Solarton and ABB's offerings are designed to be bi-directional, and come in standard sizes from 0.5 or 1 inch to 24 inches in diameter. Both Solartron and ABB claim measurement accuracy of ±0.5% of rate.